Denial of bail is silencing Hong Kong's democrats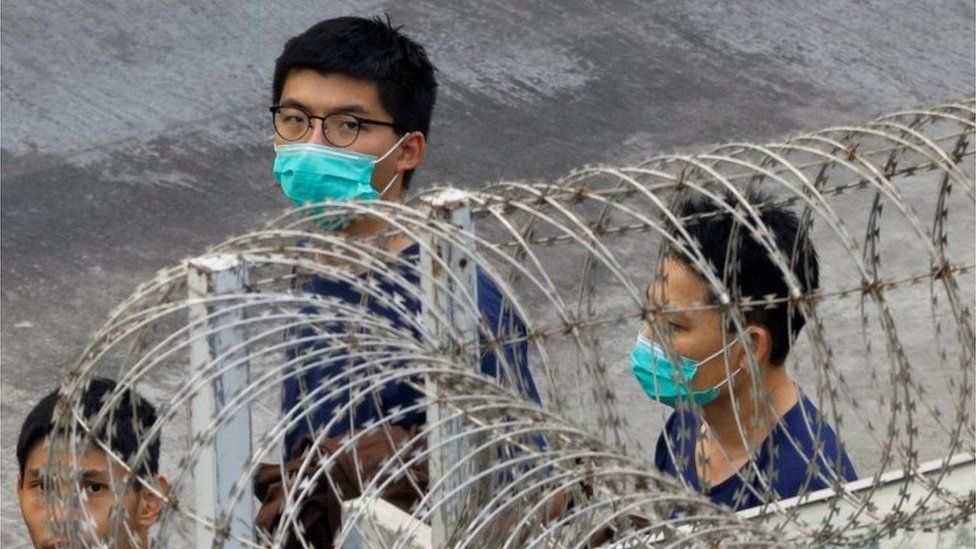 China's national security law imposed on Hong Kong nearly two years ago has completely changed the territory's political landscape.
Free speech has been curtailed, civil society groups have closed down and only Beijing-approved candidates can stand in elections.
The law has also upended several long-standing legal principles – with one of the most radical changes relating to bail.
Previously, defendants would usually remain free until their trial, but under the national security law the presumption is that they will be remanded in custody after being charged.
Critics say this pre-trial detention undermines the idea of innocence until proven guilty – and is designed to break the will of those accused.
"The Hong Kong government has created a system of de facto long-term detention without trial," according to Eric Lai, who studies the territory's legal system at Georgetown University in the United States.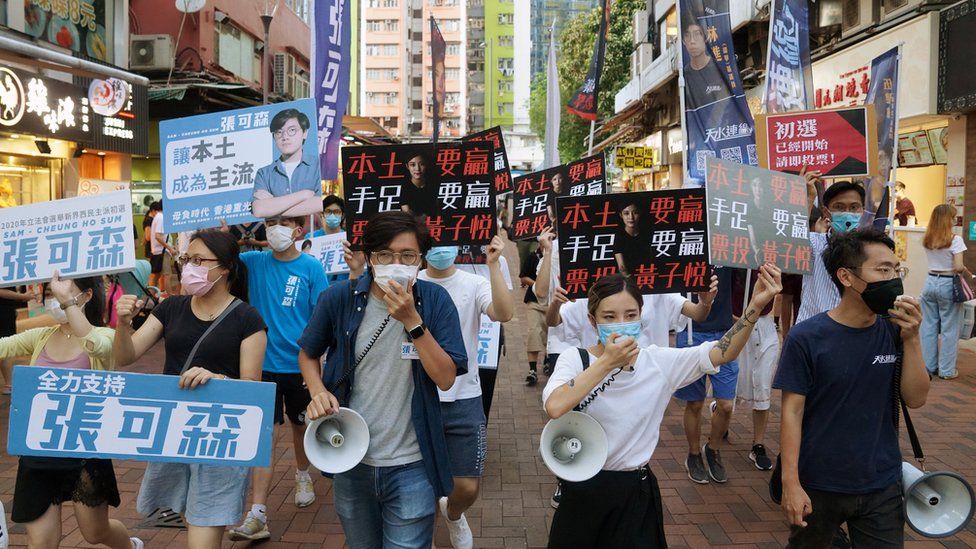 A court case scheduled to be heard in Hong Kong on Thursday highlights some of the issues raised by changes to the rules governing bail.
The hearing involves 47 defendants who are accused of offences relating to a primary held in Hong Kong in July 2020 to choose candidates for a local election.
Some of the territory's most well-known pro-democracy activists are implicated, including Joshua Wong, Gwyneth Ho and Sam Cheung.
They were arrested in January last year. At their bail hearing two months later, more than 30 of them were remanded in custody. They have been in jail ever since.
The hearing on Thursday was expected to discuss the progress of the case. The actual trial might not take place until next year.
This continued detention with no definite end in sight is sapping the defendants' resolve to resist the charges against them, according to Samuel Bickett, an activist lawyer from the United States.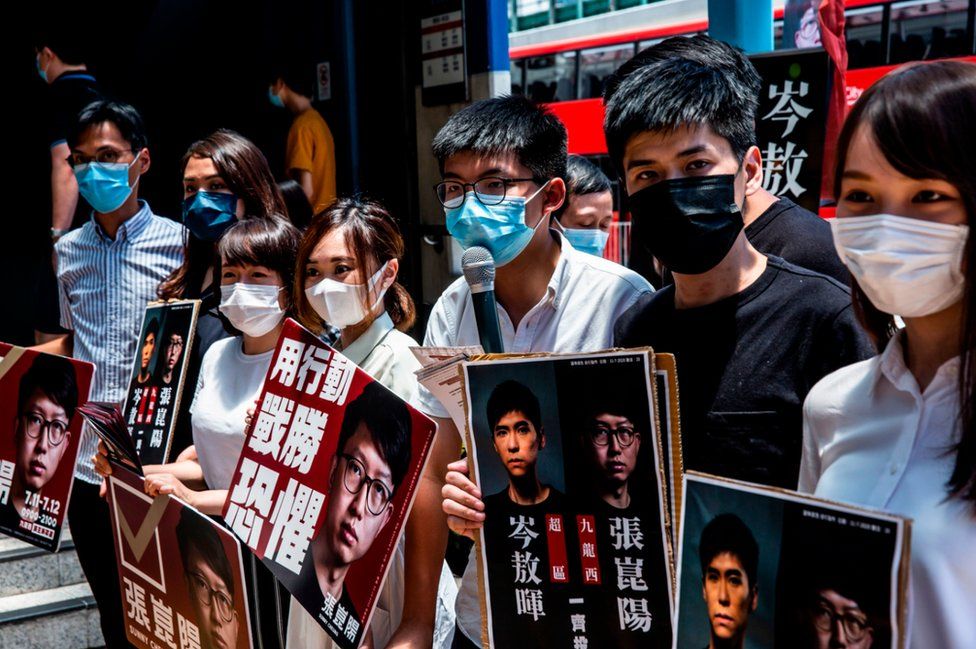 He recently spent two spells in jail in Hong Kong – one last year and one this year – and has spoken to many of those inside accused of national security crimes.
"Last summer when they had been in prison for just a few months most of them were optimistic and said they were going to fight the charges," he said.
"Then this year when I reconnected with them again in prison their mood had changed. They were really down."
Mr Bickett, who was jailed for assaulting a police officer and is now back in the US, believes the authorities are deliberately trying to grind down the defendants.
"They put them in prison and don't try them with anything, and just wait and wait and wait – until they plead guilty," he said.
Eric Lai, from Georgetown University, said cases for non-protest related offences would previously take no more than a year.
He also thinks the Hong Kong government, at the instigation of Beijing, is deliberately dragging its feet with national security prosecutions.
"They just want to put them in jail as early as they can, which is not justice," he said.
According to research carried out by Mr Lai and two colleagues, 183 people were arrested in Hong Kong under the national security law between its introduction in July 2020 and March this year.
Bail has been denied to three-quarters of the 113 of these who have been charged.
Of all those arrested, only nine have so far been convicted.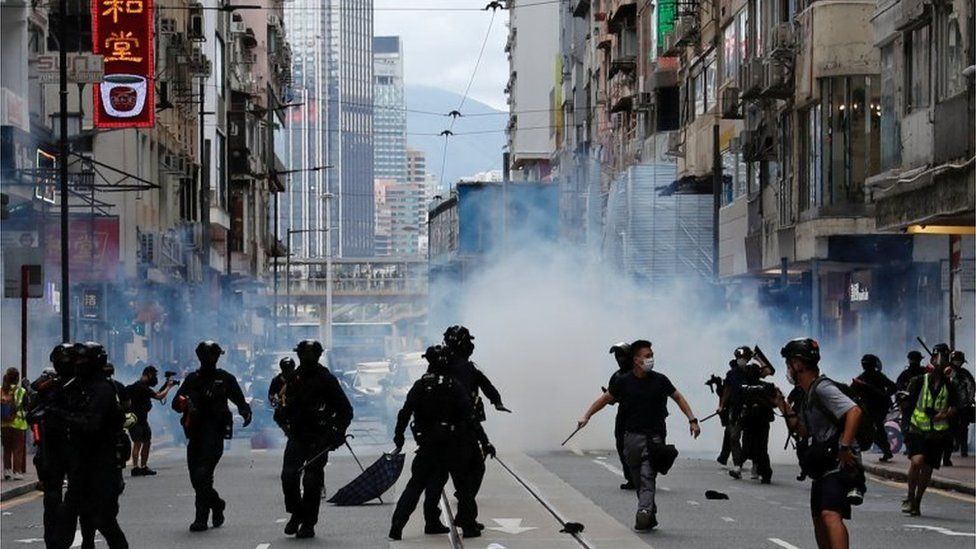 Unsurprisingly, Hong Kong's Department of Justice rejects the idea that changes to the rules on bail have undermined justice in the territory.
"Bail application in cases concerning offences endangering national security has been handled fairly and adjudicated impartially," it said in a statement to the BBC.
It said there were other countries with similar legal systems where, in certain cases, the presumption was to refuse, not grant, bail.
And it denies using delaying tactics to keep defendants in prison.
The opinions of those accused of national security crimes in Hong Kong is not as easy to access.
It is difficult to speak out while in prison. And those few who have been released on bail are prevented from talking about their cases.
The authorities have imposed reporting restrictions on court hearings, keeping many details out of the public domain.
Samuel Bickett said prison guards even stopped him trying to talk to Joshua Wong in Stanley Prison, where they were both being held.
In social media posts, the families of some of those accused have revealed snippets of the lives their loved ones are missing.
Sam Cheung's wife regularly posts photographs of their baby, born while the father has been on remand.
The wife of "Long Hair" Leung Kwok-hung, also accused of taking part in the primary, often posts about her husband.
But pro-democracy campaigners in Hong Kong who just as few years ago were constantly in the public eye have gradually faded from view.
Emilia Wong, the partner of the detained activist Ventus Lau, told one reporter that the defendants were feeling exhausted and silenced.
The sweeping provisions of China's national security law in Hong Kong – including the refusal to grant bail – have made that so.
Read the full article at: bbc.com