No easy exit from besieged Ukrainian city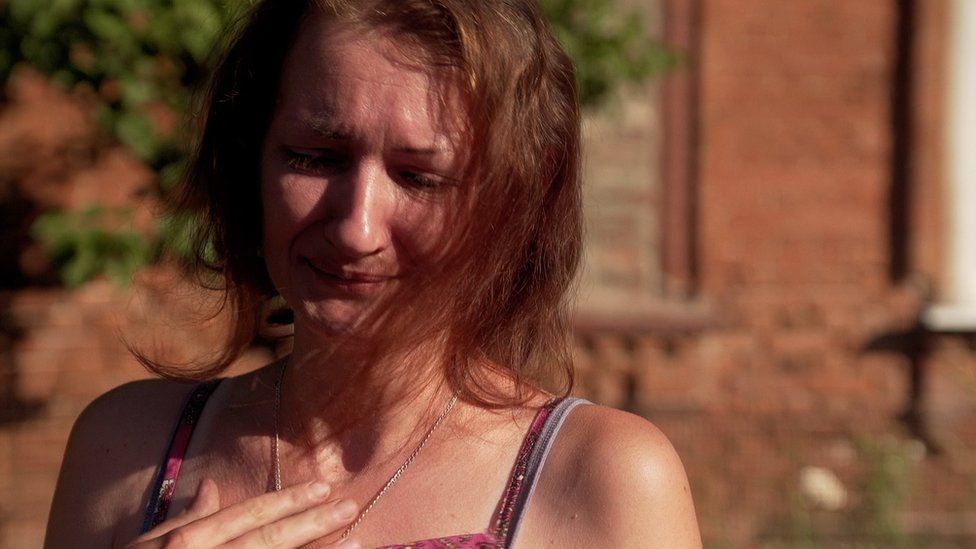 If you had only 15 minutes to pack up and run for your life, what would you take? That was the dilemma confronting Katya when volunteers arrived at her home on the outskirts of Lysychansk.
The war had landed on her doorstep a day earlier, when a Russian shell hit her garden and shrapnel pierced her metal front door.
Katya flitted back and forth between piles of belongings in her home of nine years. In the end, she picked up only a plastic folder containing her family's key documents, including their passports.
"We believed until the last moment the war would end soon," she told me.
"But it seems that the shells will never end. There seem to be millions of them, on our side and theirs. Now I realise there will be no happy ending here. We lost all hope of being able to save ourselves on our own."
Then she walked out the gate – for perhaps the last time – with her 12-year-old son Yaroslav and her husband Artyom.
Artyom was pale and sombre, with blood seeping through a bandage on his knee. He was injured by shelling when he went to get water.
That's not his deepest wound. He saw what the shell did to a man near him in the queue – his head was blown off.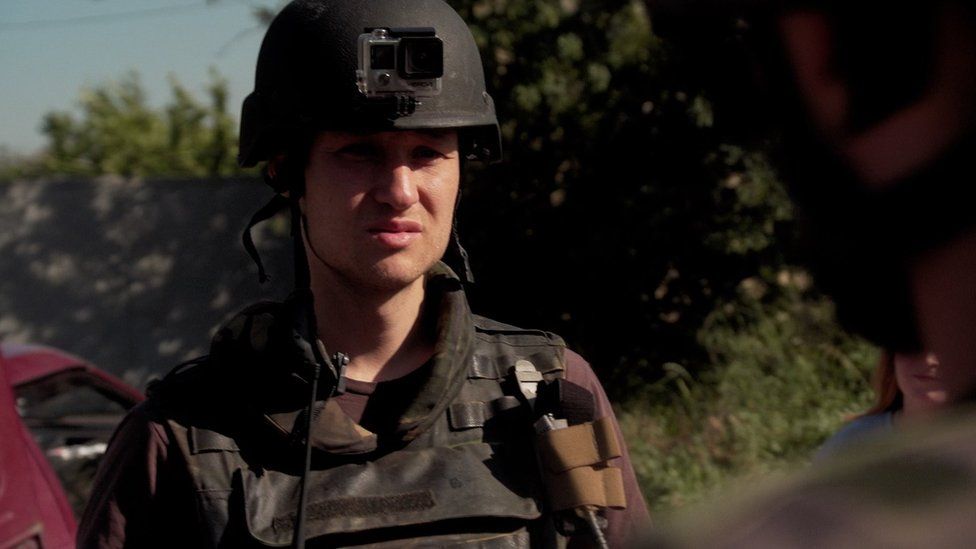 Outside, volunteers in body armour and helmets rushed the family into a semi-armoured van formerly used to carry cash in transit. Then they headed for the next address on their list, navigating bomb craters along the way.
Empty streets echoed with the percussion of war – the thud of shells and whoosh of rockets, incoming and outgoing. There's no easy exit from Lysychansk.
"It's very difficult to take people out," said team leader Anton Yaremchuk, "so we just go one by one, and we hope that this window of opportunity stays long enough that we take as many people as possible.
"I know for sure that people will be left behind and there will be street fights here. Many will die or stay in horrible circumstances for ages."
Mr Yaremchuk is a Ukrainian-born cinematographer turned rescue worker. When Russia invaded, he and some friends co-founded an aid organisation called Base UA.
For the past two months, they have been risking their own lives to evacuate civilians from frontline areas.
They have a ritual on the way to Lysychansk. Before the riskiest stretch of the journey, they don their flak jackets and briefly stand in a circle to pray.
"Some of us are believers," says Yaremchuk, "and others not, but we do this together before we go in."
We joined them on the journey into Lysychansk and were soon grateful for that prayer. As we drove into the city, a Russian shell exploded about 250m ahead of us.
We felt the blast wave inside our armoured car. Without their pause for prayer, we would have been further along the road driving into the path of the explosion.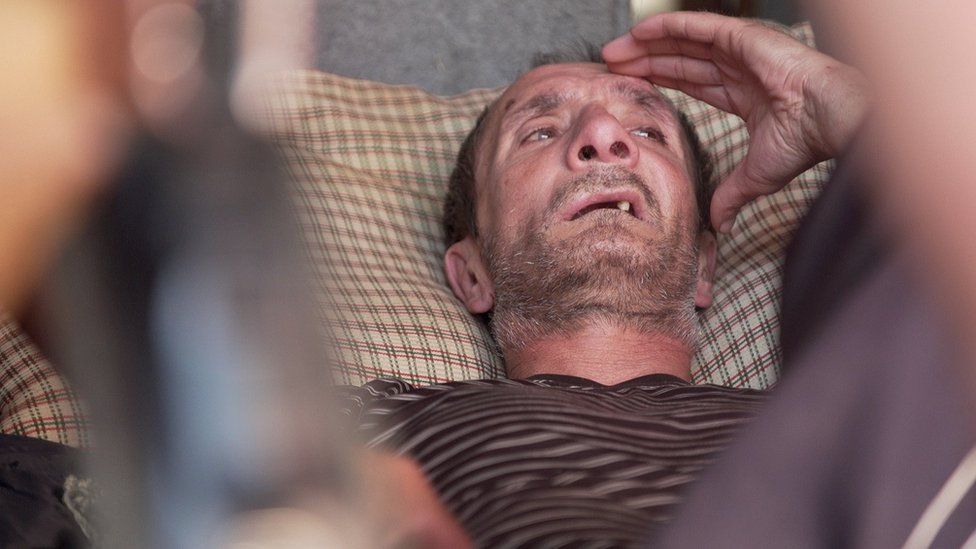 The city is running on empty – no water, electricity, or mobile phone networks – and preparing for the worst. There are fears that the Russians will try to cut off Lysychansk.
We saw soldiers digging trenches, in preparation for a possible ground assault. A military source told us there are Russian forces just 2km from the city limits.
They already control almost all of neighbouring Severdonetsk, after weeks of intense fighting there.
Local officials estimate that between 7,000 to 8,000 people remain in Lysychansk despite the danger and the deprivation. Many are trapped by fear, according to Anton Yaremchuk.
"This is the only place they know. They have never been out of the city. They have stayed here their whole lives and are afraid they will wind up on the streets."
For now, he and his team keep banging on doors, offering a way out. After a few attempts, they found the home of a man called Sacha, who had suffered a suspected stroke. For five days he had not had medical attention. For three days he had not eaten.
As he was lifted carefully into the van, a volunteer shouted, "Everything will be OK!" Sacha tried to reply, but he could no longer speak.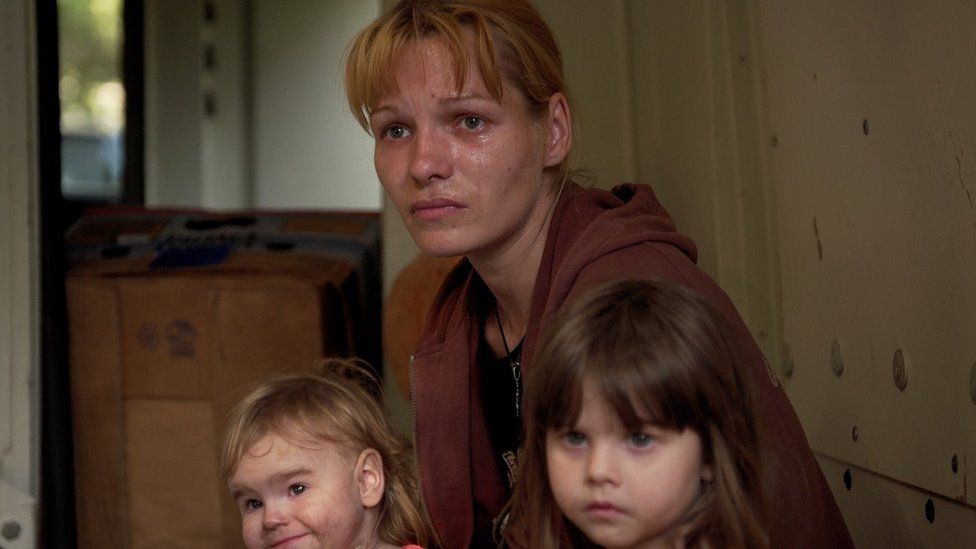 As the light was fading, the team made their last call of the day, to collect a couple and their four daughters. The mother, Nina, came rushing with her toddler, Katia, in her arms.
Two more young daughters were lifted into the van, one of whom has started stuttering since the war broke out. Their faces were streaked with dirt, Nina's with tears.
"We got really scared today and my husband told me we were leaving," Nina said. "It's been terrible. For four months now we have been in the basement."
Then her eldest, Lada, emerged from a doorway. At 12, she is old enough to carry some bags and to grasp the changes around her. When asked if her friends had left, she stood still and burst into tears.
"I don't know where they are now," she said, "I don't even know what's happened to my classmates. Some left. I spoke with them before it all began. I don't know how they are now."
It was time to go before the nightly escalation in shelling. As we headed away – along the bumpy dirt track towards relative safety – we passed Ukrainian forces troops going in.
It feels like Lysychansk is running out of time.


War in Ukraine: More coverage


Read the full article at: bbc.com