Stock markets tumble over China lockdown fears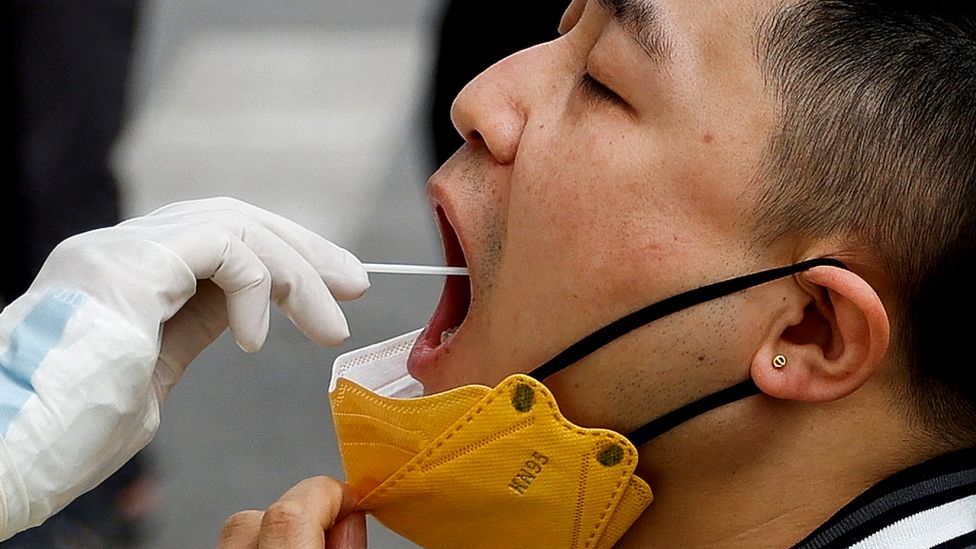 Stock markets across Europe have fallen after sharp declines in Asia on fears Covid restrictions in China could hit supply chains and the global economy.
Authorities in Beijing have implemented mass testing in one area of the city following a small outbreak of cases.
But there are concerns the capital could follow Shanghai by enforcing a lockdown to contain the spread.
London's leading FTSE 100 share index tumbled, led by commodities firms such as oil producers and miners.
The FTSE clawed back from some losses from morning trade but the index was down 1.7% during the afternoon. Germany and France recorded similar declines.
In the US, both the Dow Jones Industrial Average and the S&P 500 opened lower.
Overnight China's Shanghai Composite Index fell by more than 5% while Hong Kong's Hang Seng closed 3.7% lower.
"The scourge of Covid continues, with China unwavering in its zero tolerance policy," said Susannah Streeter, senior investment and markets analyst at Hargreaves Lansdown.
"As cases erupt in Beijing, there is concern that prolonged lockdowns will hit employment and lead to a sharp slowdown in growth as well as sparking fresh shipping logjams and supply chain issues."
Oil prices also fell on Monday, with Brent crude down 4.7% at $101.41 a barrel on the prospect of falling demand from China, the world's second largest economy after the US.
Oil giants such as BP and Shell saw their share prices fall on Monday. Shares in mining giants such as Anglo American, Glencore and Rio Tinto were also among the biggest losers in early trading.



Shanghai has been in lockdown for several weeks – but the daily death rate from Covid is rising and there are now thousands of known cases. In Beijing, there has been panic buying, as residents there fear they will soon face hefty restrictions of their own.
With China's "zero Covid" policy under pressure as never before, there are growing concerns about the impact all of this will have on the country's economy. Small wonder, then, that shares in Shanghai and Hong Kong have been tumbling.
The ripple-effects are being felt more widely too. Shares in mining companies such as Glencore and Anglo-American have been suffering steep falls; if China's economy loses steam, demand for raw materials will decline – and that will hit their profits.
Then you have the wider background – of continued Covid-related disruption to supply chains; of shortages and rising prices linked to the war in Ukraine; and of speculation the US Federal Reserve and other central banks will hike interest rates faster than expected in an effort to keep a lid on inflation.
All of this is creating a deeply queasy environment for investors – and weighing heavily on share prices around the world.


Beijing – which has a population of more than 21 million people – has reported a handful of new cases, but China has a strict zero-Covid policy in place. Over the weekend, some Beijing residents were told they needed to do Covid tests three times a week.
Pang Xinghuo, deputy director of the Beijing Center for Disease Prevention and Control, told that China Daily that the number of cases in Beijing is expected to increase in the following days.
In Shanghai, where there was a fresh outbreak a few weeks ago, much of the city is in lockdown or facing restrictions.
The latest outbreak in Shanghai, first detected in late March, has seen more than 400,000 cases recorded so far and 138 deaths.
Some factories in Shanghai have restarted production with companies such as electric car maker Tesla reportedly requiring employees to work on a "closed-loop" system which means they eat and sleep at the plant.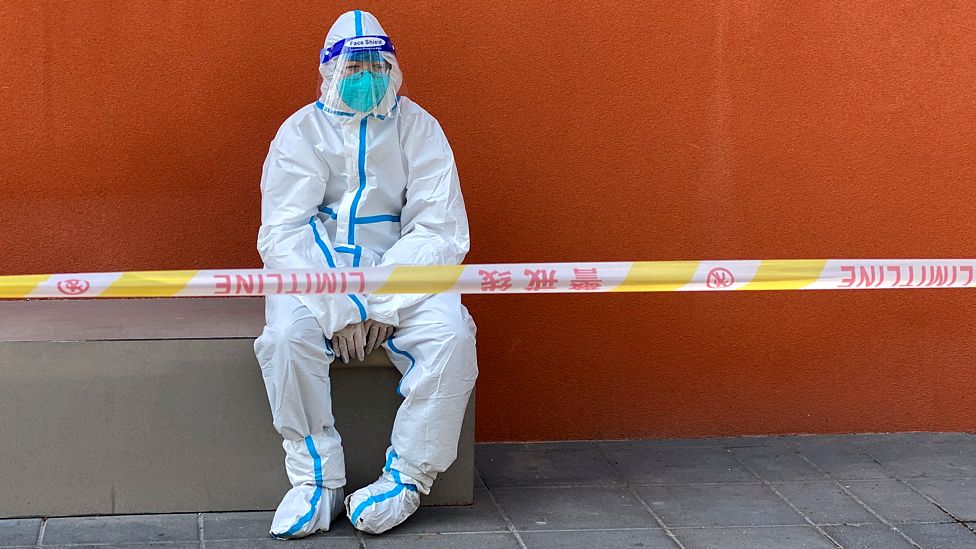 "The prospect of further restrictions in China could lead to a poisonous mix of further inflationary pressure, as supply chains in the so-called 'factory of the world' get disrupted and weaker economic growth," warned Russ Mould, investment director at AJ Bell.
Analysts said stock markets in Europe and Asia were also affected by sharp falls on leading US indexes at the end of last week amid expectations of steep US interest rates rises to calm soaring inflation – currently at a 40-year high of 8.5%.
On Friday, the Dow Jones Industrial Average, the Nasdaq and the S&P 500 indexes all fell by 2.5% or more.
Last week, Jerome Powell, chairman of the US Federal Reserve, hinted that the central bank may increase the key interest rate by half a percentage point at the next meeting in May.
This would follow a quarter percentage point rise in March.
Mr Powell said: "It is appropriate in my view to be moving a little more quickly," adding that "50 basis points will be on the table".
Read the full article at: bbc.com