Ukraine grain: Kyiv optimistic on Russia deal to reopen Black Sea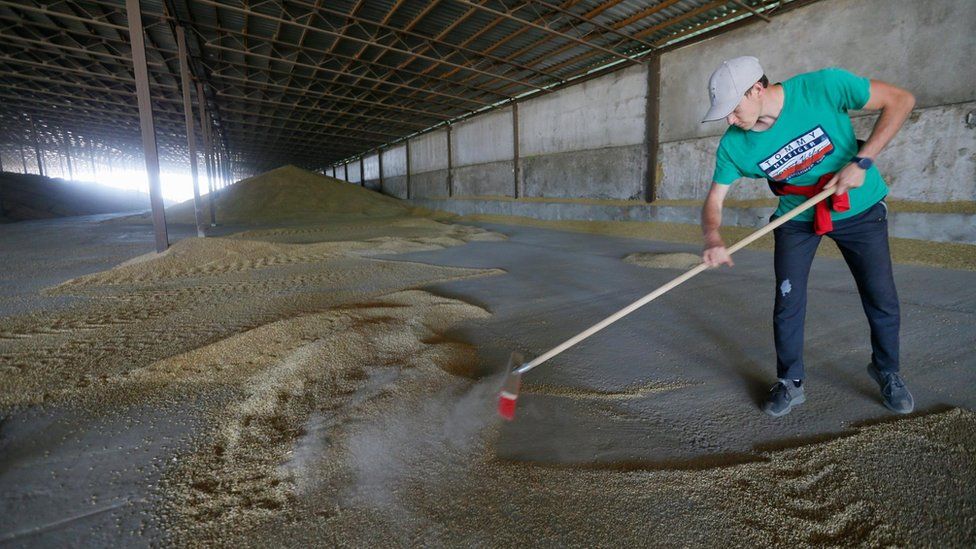 Of all the shockwaves sent around the world by Russia's invasion of Ukraine, for many the effect on food prices has been the most dramatic.
Millions of tonnes of wheat, barley, oil and other agricultural products are stuck in warehouses, unable to be exported. In normal times, much of it would have been sold to the developing world, where some of the poorest people on Earth are now finding it increasingly difficult to feed themselves.
So what is the solution? In short, reopening the Black Sea. That would allow commercial shipping to resume from the port of Odesa. But that is easier said than done.
The Russian Black Sea fleet is said to be stopping anything getting in or out and there is mounting evidence that Russian forces have stolen Ukrainian grain too. Western governments have accused the Kremlin of weaponising hunger.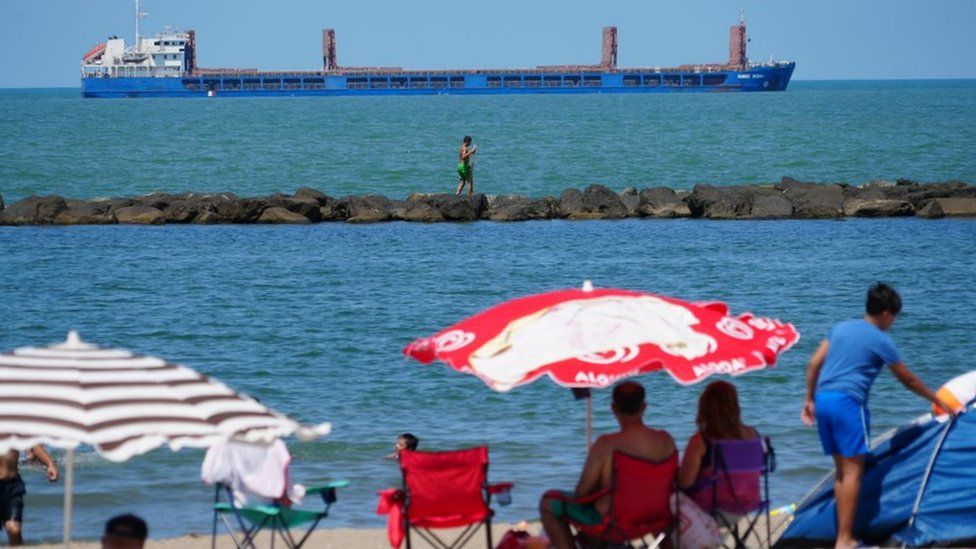 There is also the issue of sea mines, thought to have been deployed by both sides.
Navigating these issues is the main aim of talks taking place in Istanbul on Wednesday, with delegations from Ukraine, Russia, Turkey and the United Nations trying to find a way through.
Ukraine's infrastructure minister thinks a deal can be done. "I hope we will achieve some results, some practical results very soon," Oleksandr Kubrakov told me from his operational centre in Kyiv. "I hope we will see this green corridor appear in the Black Sea."
That so-called green corridor would create a safe path for shipping to and from Odesa, clearing mines from a specific section of sea. There had been fears it would take months, even years to demine the channel, but Mr Kubrakov says it can be done much faster. "I think it will take weeks, not months," he said.
Asked whether that meant exports could in theory be resumed within weeks, he replied: "Weeks, yes, you're absolutely right. If we see there are some guarantees of safety navigation in the Black Sea."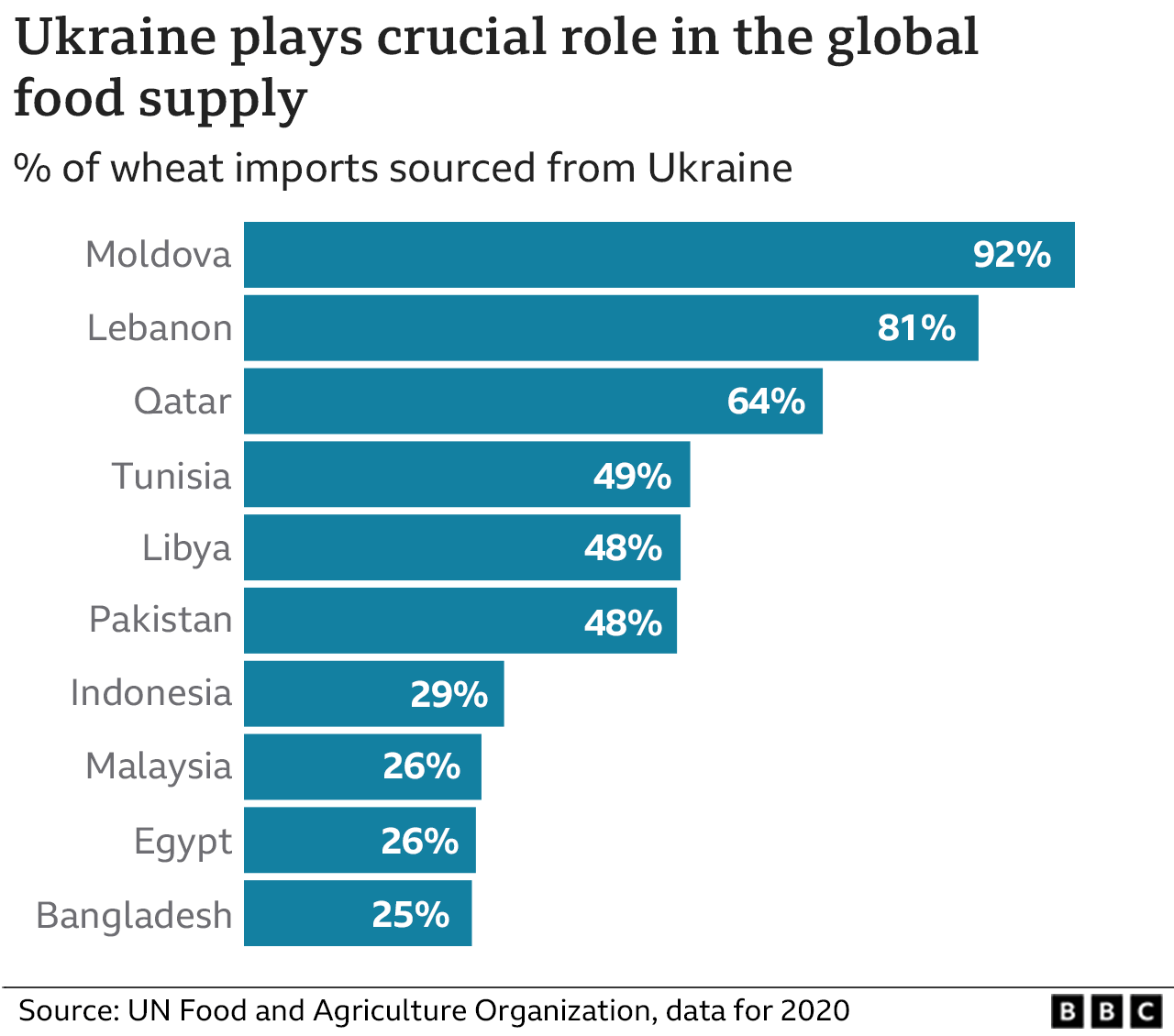 But that is all dependent on the success of these negotiations, which is far from guaranteed. So, what if they do fail?
Ukraine has managed to continue getting some exports through other channels, even in the midst of war. But road and rail have only partly compensated for the closure of the Black Sea, with export volumes down to about 30% of their pre-war totals.
News of a new naval route opening up through the mouth of the River Danube has been heralded as big news. The recent liberation of Snake Island from Russian occupation has meant that the Bystre estuary can now safely be used, taking grain into the Danube and beyond.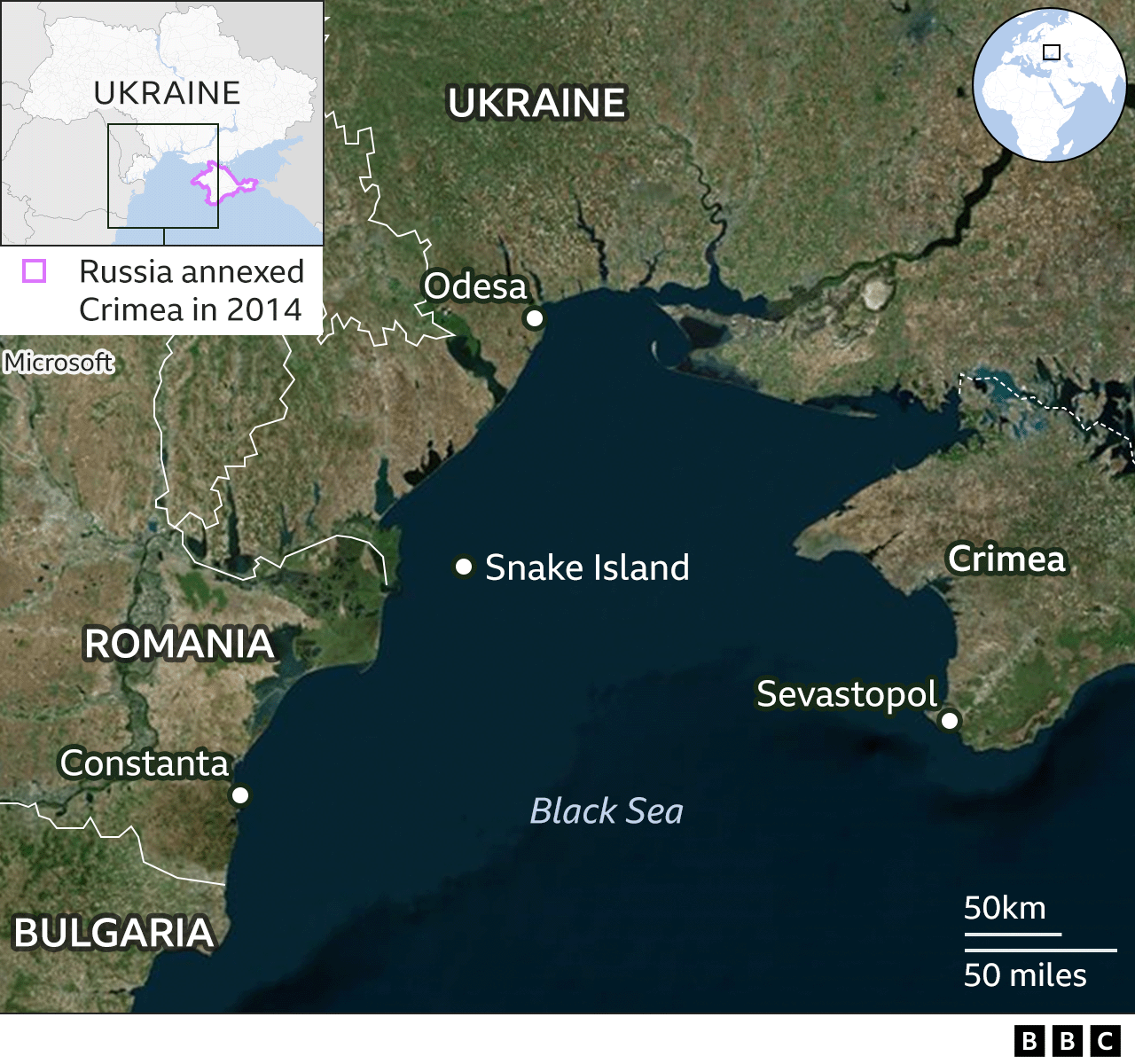 According to the Infrastructure Ministry, 16 foreign cargo ships have arrived at Ukrainian ports since the estuary was reopened, but dozens more are waiting to be let in through Romania's Sulina Canal.
The Ukrainian Grain Association sees it as an important step that will ease the situation, but not enough for a full recovery of exports.
That is echoed by Alexander Karavaytsev, senior economist for the International Grains Council. "While there is some upside potential for river shipments, as well as for rail and road transport, albeit limited, this is not likely to be a solution without the re-opening of deep sea ports," he told the BBC.
Ukraine managed to export some 2.5m tonnes of grain in June, way below the required 8m tonnes a month. Current routes can handle just four vessels a day.
And that is the key point. Ultimately for the food crisis to be solved, the Black Sea needs to be fully reopened. That will require tough negotiations, compromise and, most likely, guarantees from the UN to make it happen.
The UN Secretary General, António Guterres, knows it will be difficult, saying "we are working hard indeed, but there is still a way to go."
But the mood in Ukraine is increasingly positive. The infrastructure minister told me he was optimistic a solution could be found. And Foreign Minister Dmytro Kuleba wrote on Facebook they were "two steps away" from an agreement with Russia, meaning he believed it would come very soon.


War in Ukraine: More coverage


Read the full article at: bbc.com