Ukraine war: 'I will break my arm, my leg… anything to avoid the draft'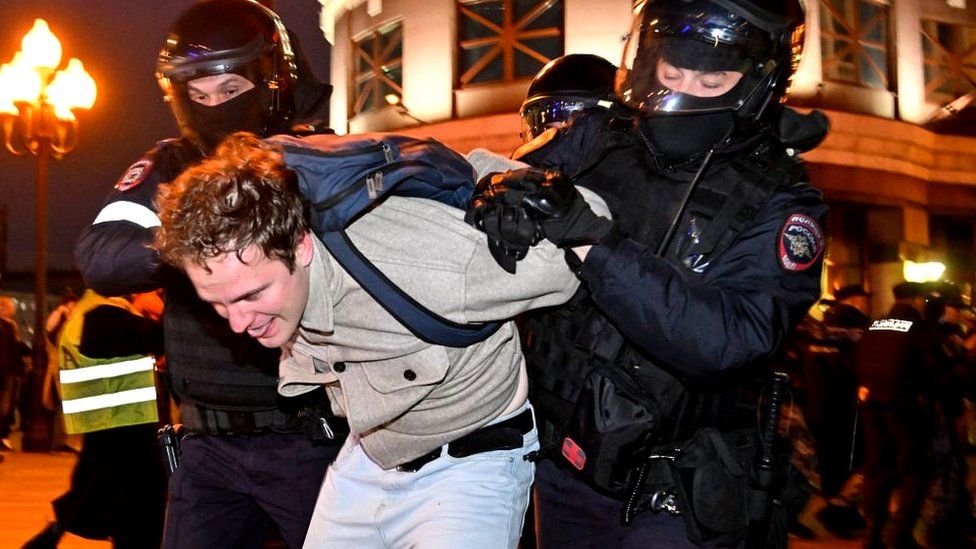 For many Russian men the Kremlin's decision to call up 300,000 military reservists for the war in Ukraine came as a shock.
In the big cities, Russia's seven-month war on its neighbour has always seemed a long way away. But as soon as President Vladimir Putin's address was over, it hit home. Being sent into combat was closer than anyone could have imagined.
Office messaging chats exploded with anxious discussions of what would happen next. Plans were made on how to avoid being sent to the front line.
"It was like a sci-fi movie from the 1980s. A bit scary to be honest with you," says Dmitry, 28, who works in an office in St Petersburg. Staff could not start their working day, glued to the speech on their TV, computer and mobile phone screens.
He excused himself from the office after lunch and went to exchange roubles for dollars at a nearby bank.
Dmitry moved house after he was paid a police visit for taking part in an anti-war rally – believing it would be harder for authorities to find him.
"I am not certain what to do next: jump on the next plane abroad or stay in Russia a bit longer and get chased by the cops at a couple of anti-war rallies."
Sergei – not his real name – has already been called up.
A 26-year-old PhD student and lecturer at a prominent Russian university, he was expecting a delivery of groceries the night before the Putin address when the doorbell rang. Instead, he was faced with two men in civilian clothes who handed him military papers and asked him to sign.
The BBC has a copy of these documents, asking him to attend a draft centre on Thursday.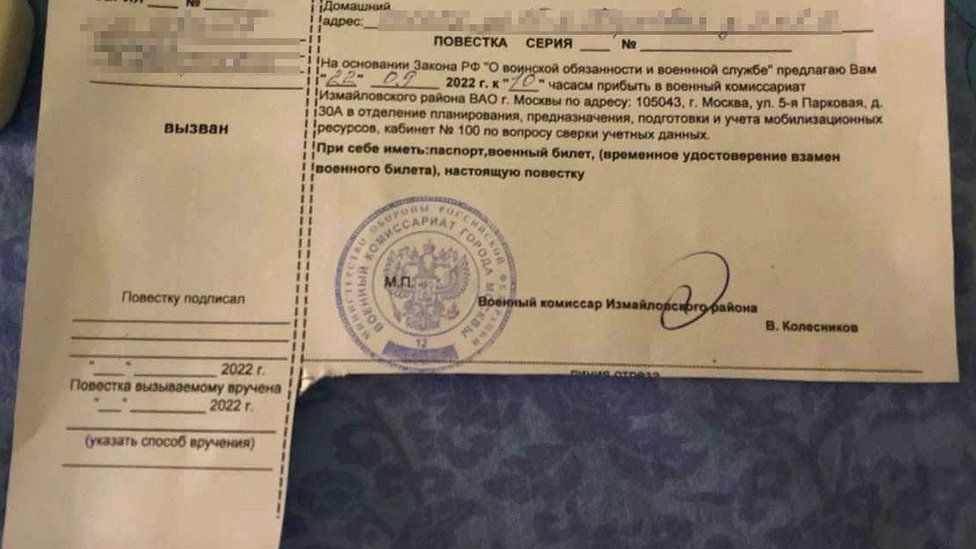 The Kremlin said only people who had done their military service and had special skills and combat experience would be called up. But Sergei has no military experience and his stepfather is worried, as dodging the draft is a criminal offence in Russia.
The stepfather works in a state oil company and hours later he was asked to provide a list of staff who had a legal exemption from military service.
Most Russian men do not, so many have been seeking ways to avoid the call-up.
In Moscow, Vyacheslav says he and his friends started looking for medical connections to help.
"Mental health or treatment for drug addiction look like good, cheap or perhaps even free options," he said.
"If you are stoned and get arrested while driving, hopefully you will get your licence taken away and will have to undergo treatment. You can't be certain but hopefully this will be enough to avoid being taken [into the army]."
His brother-in-law narrowly avoided the draft because he was not at home when officials came calling. His mother saw the documents, which demanded he report for duty between 19 and 23 September.
"He has now locked himself in one room and refuses to come out," says Vyacheslav. "He has two tiny kids aged three and one: what is he supposed to do?"
Another man, from Kaliningrad, told the BBC he would do anything to avoid being drafted: "I will break my arm, my leg, I will go to prison, anything to avoid this whole thing."
Thousands of Russians attended anti-war protests in cities across Russia on Wednesday night. Many said they were handed call-up papers either in the street or later in police detention.
Human rights organisation OVD-Info listed up to 10 police stations in Moscow alone where protesters were given their papers. At least one man in Moscow's Vernadsky district refused to sign and was threatened with a criminal case.
One woman told the independent Mediazona website that her husband was detained at an anti-war protest in Arbat in central Moscow. He was taken to a police station, handed call-up papers and signed them as he was being videoed by the police. He was told to turn up to be drafted on Thursday.
Mikhail, 25, had left Russia for neighbouring Georgia at the start of the war and only returned to his small hometown in the Urals for a few days. He had planned to go back but is now worried by President Putin's nuclear weapons threat and will stay in Russia, close to his family.
"We're in a state of panic. In my town many have already received call-up papers but I am not registered to live here so won't get them."
He had recently secured a good job in Tbilisi but now sees it as pointless because of Vladimir Putin's military escalation.
"On 21 September, he managed to destroy even the mess he first made on 24 February [the start of the invasion]," Mikhail said. "I've stopped caring completely, I only live for today."
Read the full article at: bbc.com