US prices rising at fastest rate for 40 years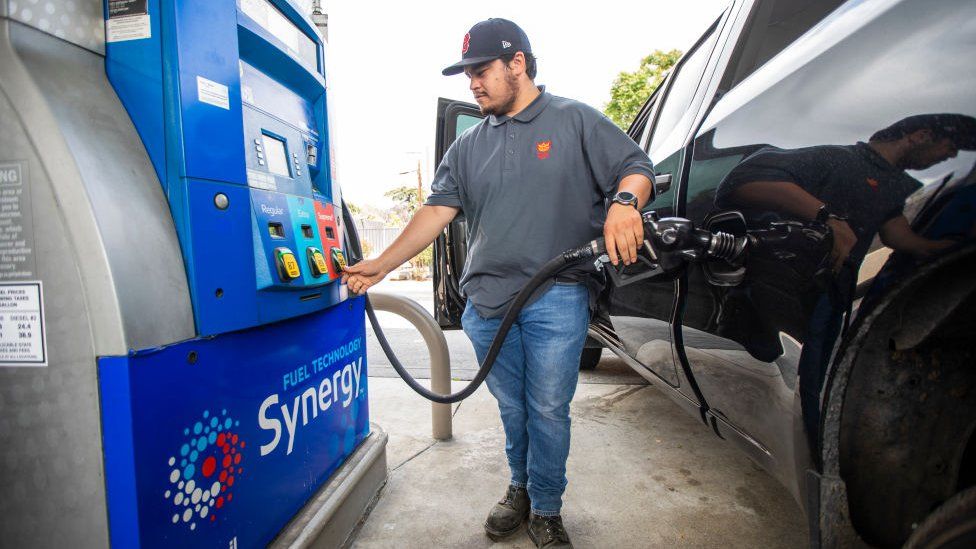 Prices in the US are rising at their fastest rate for more than 40 years due to petrol and food costs remaining high, latest figures show.
Inflation, the rate at which prices rise, hit 9.1% in the 12 months to June and increased by 1.3% from May alone, the Labor Department said.
US petrol prices hit record highs last month, averaging above $5 per gallon.
It has led to predictions that the US central bank will hike interest rates further later this month.
According to the data, the US inflation rate is now at its highest level since November 1981, having risen from 8.6% in May.
There had been hope that a shift in spending from goods to services would help cool inflation, but high competition for workers has led to higher wages, which has fuelled further price rises.
Prices in the US have been rising since late last year due to supply chain disruption from Covid and higher food prices caused by severe weather. The war in Ukraine has also pushed up commodity prices globally.
Some economists have also blamed president Biden's Covid spending programmes for exacerbating price increases. In total it deployed $5tn (£4.1tn) of stimulus to shield households and businesses from the economic shock of the pandemic.

Samira Hussain, New York business correspondent
In anticipation of the latest data, the White House started downplaying the numbers earlier this week, calling the Consumer Price Index a backward looking metric. And it's true that these numbers highlight the price increases from the previous month while not reflecting more recent price falls, especially in gasoline.
But this report does show just how hard the finances of American families have been hit. People are already changing their spending habits and using their savings to pay for housing and food.
The real value of American hourly earnings has dropped faster than at any time since the '80s. And that's what's worrying US President Joe Biden and his party. Midterm elections are in November, Democrats are desperate to keep their narrow majority in Congress. But the high cost of living is weighing on the minds and wallets of voters.

Earlier this week the Biden administration, whose popularity has fallen as inflation soars, tried to play down June's rising prices, stressing that the costs of energy and other commodities have since fallen sharply.
But Quincy Krosby, chief equity strategist at LPL Financial, said the comments were an "indication the concern has deepened for the administration".
"No one expected over a 9% print," he added.
Financial markets expect the US central bank to raise interest rates again to rein in soaring prices at its meeting in a fortnight.
Despite the concerns, Mr Krosby said there were signs the US was "close to peaking or plateauing in inflation".
"We're starting to see prices come down in commodities, freight and shipping, and the global supply chain challenges appear to be easing at the margin, which should lead to prices coming down," he said.
Read the full article at: bbc.com